Dearest friends,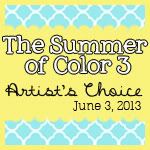 Summer Of Colors 3

starts this week!. I've been waiting a year for this. I had a great time at SOC last year, which themed around colorful, yummy ice-cream flavors.
This year, Kristin of

Twinkle - Twinkle

, allows artists to vote for colors they love to work, every week. Hence, "Artist's Choice" :). Read about the details on her blog's

here

. Fun times!.
First week's theme is Citron Green & Turquoise. Here's what I plan to do for the next 6 weeks;
1. I'll make a tiny 'Gratitude' booklet each week.
2. Each week, I'll journal about one thing I'm thankful for.
3. I'll use enough muted colors for the background to allow ample space for notes. The accents, embellishments and details will follow the color prompt of the week.
4. On Week 6, I'll display all booklets that I've created. [

Can't wait!

].
5. Maybe, I'll make some kind of storage for those tiny books on the final week. [

Fingers & paws crossed

].
Okay, on to the next. My first week's gratitude book;
As some of you may already know, I live very close to a small forest. I enjoy listening to the birds every day, especially in the mornings. I dedicate this to the lovely birds :).
Accordion folded linen, bound in the middle with a fiber.
A simple knot for closure.
I sewed turquoise & white lace ribbons on the covers, lined with citron & white beads.
My first attempt at using neon color beads & thread (citron green). I'm just a little braver, following tips from

Let's Get Trendy Now!3 - Neon!

. [

Yvonne, you got to love me for trying, *wink

].
Used the tiniest neon beads I could find in my stash.
I stamped with gesso on a few pages, mostly to add layers & texture. Can you spot it here on the linen?
Sewed white beads on some other pages, for dimension.
Let's take a peek inside the book;
I wrote the notes with black pigment pen.
I love stitching on plastic, so I added a clear pocket with tiny silk flowers. It's like looking at nature from my window :).
First drew a bird in pencil, colored in with watercolor, then doodled over with black pigment pen.
That's all to it. I can't wait to visit you all & see what you created this week. Have a great day!. HUGS.
P/S : If you're looking for more fun things to do;
Look no where else, check out amazing projects, trendy tips & play along the challenges at

Let's Get Trendy Now!3

workshop.
Link up your projects by the end of June, AND win yourself some trendy prizes too. Good luck!